Commercial & Industrial Electrical Contractor - Louisville, KY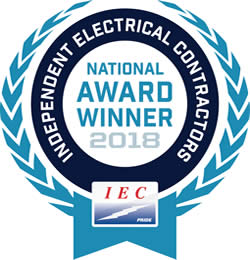 Wagner Electric Receives a 2018 IEC National Award
of Excellence in Electrical Construction
ALEXANDRIA, VA - The Independent Electrical Contractors (IEC) is pleased to announce that Wagner Electric from the IEC of Kentucky & Southern Indiana chapter, located in Louisville, KY, received a 2018 IEC National Award of Excellence in Electrical Construction in the Industrial Construction, Electrical Contract amounts over $5,000,001 category.
Wagner Electric was recognized for its work on the R.T. Vanderbilt – Area 10 project.
Wagner Electric designed and replaced an entire electrical system for a 4 story 50,000 sq. ft. chemical plant (R T Vanderbilt) in Murray Ky. This project took 2-1/2 years and very challengingly, was installed while the plant maintained production. From the design to the final commissioning, this project demonstrated Wagner Electric's capabilities and deservedly received this prestigious National Award of Excellence.
The IEC National Award of Excellence in Electrical Construction is given each year during IEC Convention & Expo to recognize remarkable electrical projects in the categories of Residential, Commercial, Industrial, Low Voltage/Limited Energy, Efficient Energy, Power Generation, and Service.
To view the project, click here or go to the Gallery section of the web site.
---
When you select an electrical contractor for a project or a service problem, you want a company on which you can depend, a company that offers a high level of comfort and confidence.
Wagner Electric's broad expertise provides that security, no matter what size the project may be. The company goes beyond the expected to deliver a tradition of unexpected excellence year after year.