Hiring Electricians, Electrician Apprentices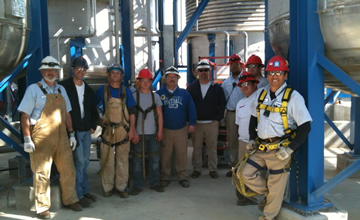 Wagner Electric began in 1961 and over the years has developed into a quality, award winning electrical contractor. Over the past 8 years we have won 5 IEC National Awards: three for Industrial Projects, one for our Service Department and one for Community Service. We are an award winning team respected for our work, staff and winning attitude.
If you are an electrician or looking to get into the trade, Wagner Electric is the place for you. What are the advantages for being a Wagner Electric employee?
Opportunities to work in various electrical venues such as Industrial, Healthcare, and Commercial
Work on large projects which will expand your electrical knowledge
Learn more complex wiring methods
Work in the full arena of the electrical trade
Be a part of a winning team
Wagner Electric offers its employees the following benefits:
Competitive pay scale
Medical & Dental coverage
Life Insurance at no cost to employee
Paid time off, one week after ninety days
Six paid holidays
Retirement savings plan, including employer match up to 3%
Apprenticeship training program for new employees to the trade
Wagner Electric from time to time will accept applications for the following job descriptions:
Apprentice Electrician with little or no experience required
Apprentice Electrician with a minimum of 2 years required
Licensed Electrician
Electrical Foreman/ Supervisor that is a licensed electrician with foreman or supervising experience.
Management or support office personnel.
Currently we are accepting applications for:
If you are and electrical professional or looking to get into the trade, Wagner Electric is the place for you. Submit your application and start the process or give us a call at (502) 267-8384 if you have any questions.