Wagner Electric Receives a 2020 IEC National Award of Excellence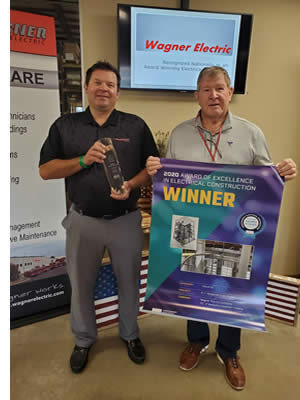 Wagner Electric received the 2020 IEC National Award of Excellence for Industrial Consturction.in the $500,001 to $1,500,000 category. The project was the R.T. Vanderbilt Dryer project.
Wagner Electric provided material, labor, supervision and design assistance for a 5 story structure housing a new industrial spray dryer. This project included new distribution, motor control centers, PLC controls systems, rigid conduit installation and cable tray wiring.
Several innovative features included building an enclosed building adjacent to the new 5 story structure. This building housed a combination bending and threading station that Wagner Electric designed and a welding area to handle fabrication. The second feature is that this project was completed with 2 men. Due to a delay, time was available that allowed our 2 electricians to complete the project.
To see the virtual presentation of the award, click below. You can view the presentation and then once the Wagner presentation is complete you can close the link. This award was Wagner Electric's 4th IEC National Award in the last 3 years and the 5th in the last 8 years.
---
Check Out Our Article in the Trinity Alumni T-Blast!
Over the last several years, Wagner Electric has had great success partnering with Trinity High School in promoting careers in the electrical field. Through the relationship of Mike Wagner, Tony Wagner and the Trinity community, eleven Trinity graduates have come to work at Wagner Electric.
Their success is something worth celebrating at Wagner and at Trinity. Through job fairs and relationships built through sports, Trinity students have been able to realize there are alternatives to college for careers. The success that these eleven Trinity graduates have had includes two who have been named National Apprentices of the Year, Bryan Cole, 03, and Stephen Terry, 01.
To read the entire article that was in the Trinity Alumni T-Blast, click here. You'll find it very rewarding and a credit to both Wagner Electric and Trinity High School.
---
Electrical Service and COVID-19
Wagner Electric
COVID-19 has affected us all. Many businesses are shut down or working at reduced capacity. We at Wagner Electric wanted all our customers to know that we are open for business and performing electrical service work within the guidelines of the government.
Whether it is a commercial or residential job, we are practicing social distancing and making sure we keep the workplace as clean and sanitary as possible. No Wagner Electric employee who is feeling ill will be sent to any job site. We will also always be in contact with our customer to be sure we follow any guidelines they may have. Our goal is to complete the job in a safe and healthy way.
In this critical time, Wagner Electric wants to be a good community partner. We also know there are electrical needs around the area that must be addressed. Wagner Electric is working hard to perform the work needed in the best way we can to protect all concerned.
Be healthy and safe!
---
Commercial & Industrial Electrical Contractor - Louisville, KY
When you select an electrical contractor for a project or a service problem, you want a company on which you can depend, a company that offers a high level of comfort and confidence.
Wagner Electric's broad expertise provides that security, no matter what size the project may be. The company goes beyond the expected to deliver a tradition of unexpected excellence year after year.