Generac Backup Generator Specialists - Home or Business
When the Power Goes Out...


Home

No heat or air conditioning
No lights
Spoiled food in refrigerator or freezer
No home electronics
No sump pump
Frozen pipes
At mercy of electric company schedule of repairs
Business

No heat or air conditioning
No lights
No computers or telecommunications
No security system
No machinery working
Lost production time
No Work!!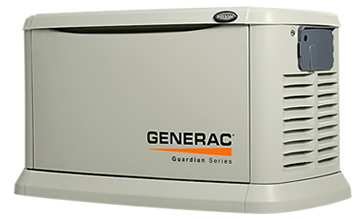 When the power goes out, it can present many problems for your home or business. That's when having a Generac Power System can keep you up and running without any interruptions.
Wagner Electric is a Generac Generator Specialist for home or business. We have a full line of automatic standby generators to fit your specific need. Whether you are a commercial, industrial, healthcare or residential customer Generac has the right size generator for you.
Wagner Electric has fully-trained technicians ready to install your standby generator. Our customers include:
Homes
Hospitals
Warehouses
Food processing
Industrial plants
Commercial businesses
Wagner Electric can install your standby generator as part of a new construction project or retrofit it into an existing building. We can give you the right size for your situation, from a home unit to a 2 mega watt unit for large buildings.
Our technicians can provide regular and preventive maintenance on your generator. This means we can change your oil filter, spark plugs, air filter and provide any warranty work that your generator might need. Let Wagner Electric give you a quote on installing the number one selling home standby generator in your home.
To schedule service, give us a call at (502) 267-8384 or click here to fill out our schedule request form.

To see a gallery of Generac Generators for home, click on the generator below.